A (much) better Pro Micro
The Bit-C is a microcontroller daughterboard featuring the Atmel ATmega32U4, designed for DIY keyboard enthusiasts. It features a sturdy through-hole USB-C connector that is more rugged than a standard USB micro B. It's only 1mm thick, so it sits slim and low. The Bit-C ships with the Atmel DFU bootloader, which is smaller and less finicky than the default Caterina bootloader. 100% of Bit-C units are exhaustively tested before shipping, ensuring you're spending your time building, not debugging. Best of all, it comes in white!
100% Pro Micro compatible
The Bit-C is a drop-in replacement for any Pro Micro MCU, including the Elite-C. With 1-1 GPIO pin parity, firmware builds don't need to be changed in order to swap in a Bit-C. The Bit-C is shipped with the lightweight Atmel DFU bootloader, making flashing with QMK a breeze. VBUS detection & backdrive protection are implemented for split keyboards, and a 500mA resettable fuse is included for protection.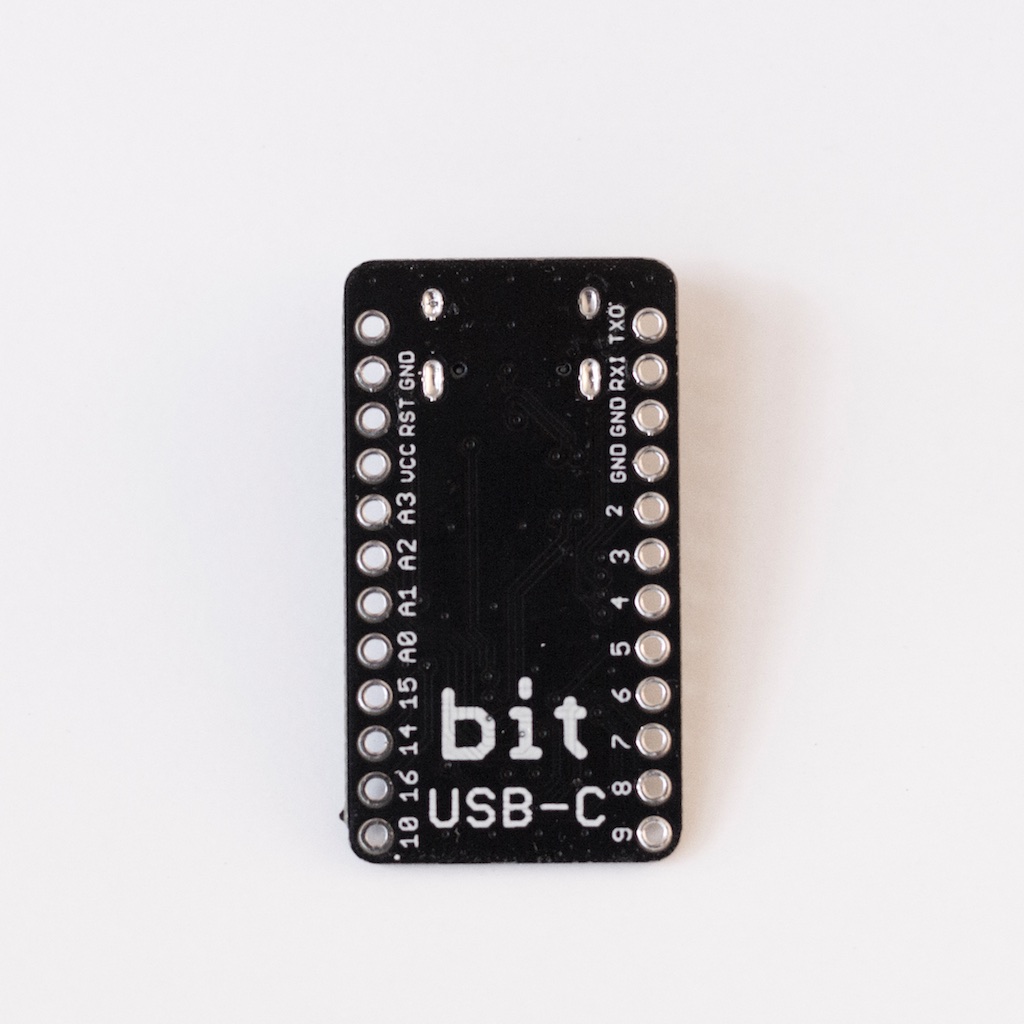 Bit-C Comparison Table
| | Bit-C PRO RP2040 | Bit-C AVR 32U4 |
| --- | --- | --- |
| CPU architecture | RP2040: ARM Cortex M0+ | ATmega 32U4: AVR |
| CPU clock | Dual core @ 133MHz | Single core @ 16MHz |
| GPIO Voltage Level | 3.3V | 5V |
| Flash size (program storage) | 4MB on-board | 16kB on-chip |
| RAM size (variable and data storage) | 264kB on-chip | 2.5kB on-chip |
| QMK firmware support | ✅ | ✅ |
| Arduino IDE support | ✅ | ❌1 |
| Micropython support | ✅ | ❌ |
| Circuitpython support | ✅ | ❌ |
| Electrically compatible with Bit-C PRO RP2040 | ✅ | ❌2 |
| Electrically compatible with Bit-C AVR 32U4 | ❌2 | ✅ |
1
The Bit-C AVR 32U4 can be used with Arduino IDE, but requires flashing a new bootloader.
2
The Bit-C PRO RP2040 and Bit-C AVR 32U4 cannot be "mixed and matched", as they use two different electrical voltage levels. For example, if building a split keyboard such as the SNAP, both Bit-Cs must be the same model. Boards connected over TRRS must also use the same MCU.
OS Compatibility
Supported by all major versions of Windows, MacOS, and Linux. Fully compatible with USB 2, USB 3, and USB-C. No driver installation required for MacOS and Linux; Windows 7/8/10/11 may require driver installation.
See here for info
.
Got FOMO?
Join our email list to to get updates about product availability and an early heads up about new ones. Plus, earn access to exclusive deals, unlock access to our referral program, and more.