A seriously sassy, stylish, 75% split
The SNAP is a 75% split mechanical keyboard kit with support for dual rotary encoders, dual OLED displays, speaker, and RGB underglow. We took all the best parts of the NIBBLE and added some of the most popular requests (true split shift/space/backspace, anyone?). The SNAP is configurable, programmable, and best of all, easily assembled.
Together, or separate?
Use the SNAP in split mode, or snap it (whoa, get it?) together for a more traditional layout. Strong internal magnets hold the two sides together and magical spring-loaded pogo pin contacts mean there's no need for a TRRS cable when the two sides are attached. It just works.
100% through hole design*
The SNAP uses a Pro Micro MCU instead of a discrete micro-controller chip. It offers the fun and aesthetic of a kit without having to worry about soldering the difficult bits like USB connectors. All required parts (diodes, caps, and ICs) are through-hole, meaning they're easy and forgiving to solder.
*Optional underglow LEDs are surface-mount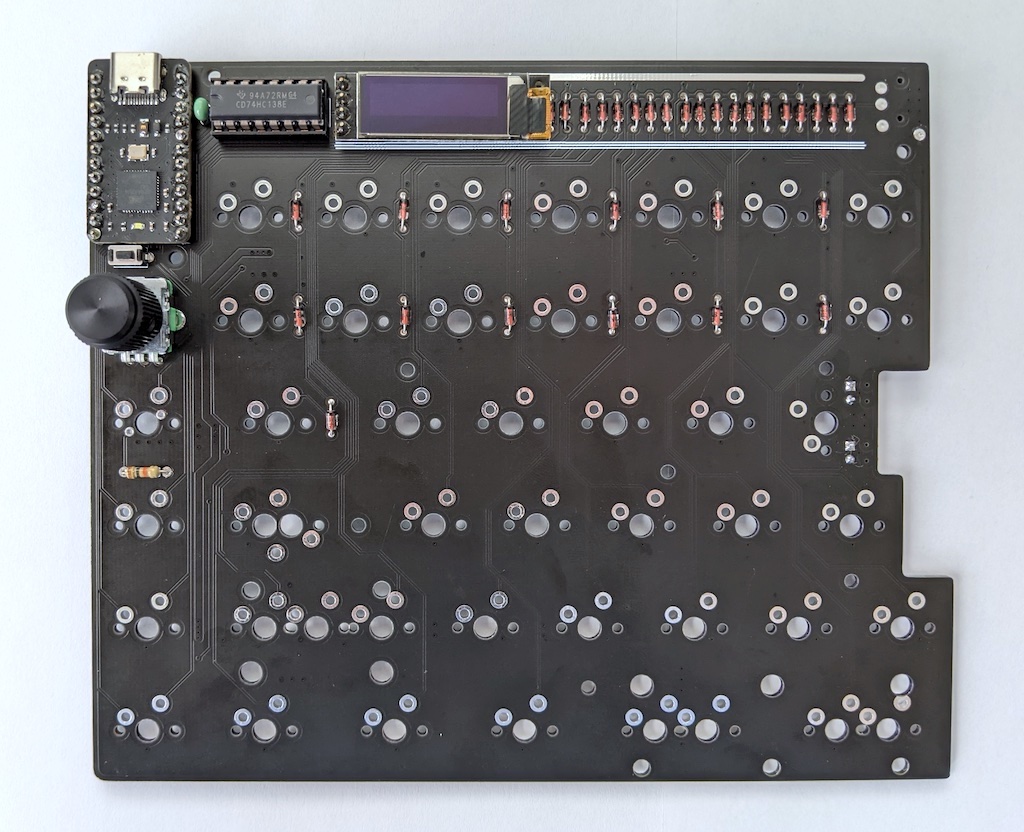 Multiple Layout Options
The SNAP supports many different key configurations and layouts: Split space, split backspace, split shift, ISO enter, and more. Check out the official configuration options and layout. Since it runs QMK firmware and uses VIA, it's easy to change keymaps, program macros, and customize functionality, even beyond what's been discussed here.
Recommended Accessories
Just in case you want to make your SNAP, well, snappier.
Included
(in the box)
Top & bottom PCBs
Top & middle acrylic supports
M2 standoffs & screws
Core electronic components:

1N4148 axial diodes & reset switch
WS2812 RGB underglow LEDs
Speaker, magnets, and pogo pins
1x rotary encoder & color-matched Kilo knob

Quickstart card
TRRS cable
8x mini bumpons
Not included
(you'll also want)
2x Pro Micro Compatible MCU. Consider using a Bit-C!
PCB-mount stabilizers: The SNAP requires 5x 2U stabs*

2x 2U stabs - one for each spacebar
3x 2U stabs - for left shift, enter, and backspace
*[Optional] - 1x 2U stab if building with a 2.75U right shift

Qty. 92 PCB mount MX-compatible keyswitches & keycaps
[Optional] Mill-Max 0305, 3305, or 7305 hot-swap sockets
Tools:

A good fine-tip soldering iron
High quality thin solder
Side cutting snips for trimming leads
A fine-tip Phillips (#00 or #0) screwdriver
Stay in the loop
Join our email list to to get updates about product availability and an early heads up about new ones. Plus, earn access to exclusive deals, unlock access to our referral program, and more.